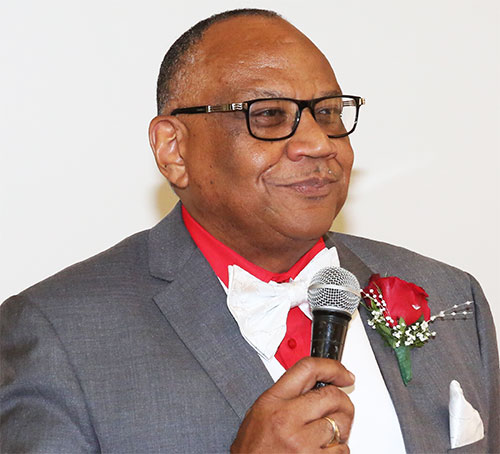 Dr. Paul Patrick
Rev. Dr. Paul Patrick experienced the saving grace of the Lord at age 18 years old in Barbados the country of his birth in 1975. He and his wife Cheryl were married the same year he migrated to the United States in 1979. Their marriage has produced three children, Adrell, Adrian, and Alisha. Over the years Dr. Patrick has served in every capacity of the church. From Youth Leader to Choir Member, Deacon to Board Member and Usher, his wide experience in church activities and leadership paved a solid foundation toward fulfilling his calling.
In 1988 he completed three years of biblical training with Evangel Temple's Bible Institute in Brooklyn N.Y. In 1990 He co-founded Ebenezer Pentecostal Tabernacle in Brooklyn N.Y. In 1996 he was led by the Lord to establish Queens Christian Center in the town of Rosedale in Queens. With his wife Cheryl and three children supporting him, he has continued serving in the Gospel ministry while completing studies that earned him a Doctor of Ministry degree from Alliance Theological Seminary. These accomplishments were achieved while working in the transportation industry where he was promoted to the level of superintendent of Maintenance with MTA Bus Co. in New York City.
His studies and ministry have taken him as far as France, England, and Ukraine where he and five colleagues completed a ten day intensive course in leadership in the Urban city of Keiv. Participating in this class was forty students from Russia, Siberia, and countries of the former Soviet Union. Dr.. Patrick is a Licensed Clinical Pastoral Counselor with the National Christian Counselors Association.
Along with ministry in the church and leading souls to Jesus, Dr. Patrick has a keen passion for training new leaders for ministry. He has conducted men and leadership seminars in the New York City area.
His first publication The Senior's Bible (2012) is a work that was inspired by a desire to provide the Word of God in a text that is legible by his mother whose sight is limited. That desire has blossomed into this newly published text that is available through Xulonpress.com and is available around the world.